Listening To The World, Finding New Opportunities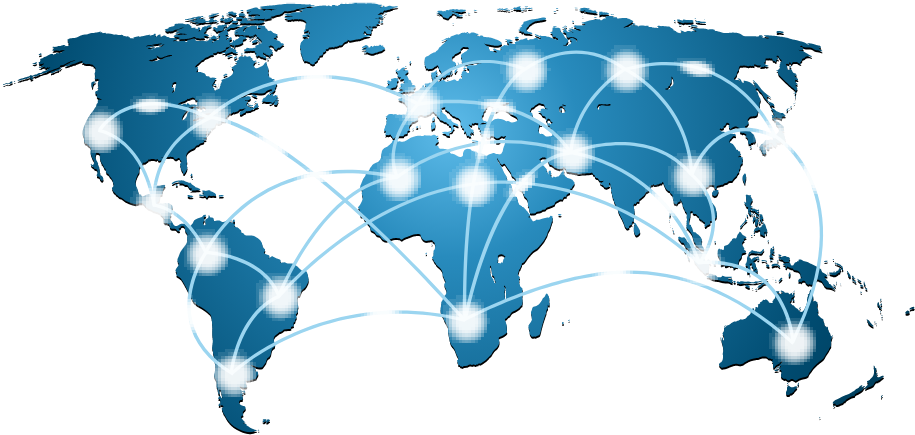 The Americas
The U.S.A has always been our most important overseas market. We believe the U.S.A has great market potential in demand and massive business opportunities. Bearing this in mind, we will study, specialize, and focusing more on our business, and aim at further business expansion.

Presently, we are handling various chemicals for personal care, paints for automobiles and construction, health food, water treatment, medicals, pharmaceutical and fuel cell, etc. through not only our subsidiary in the USA " Mitsuya Boeki USA Inc" but also proficient local partners specialized in versatile fields in North America and South America.
SOUTH KOREA / TAIWAN / ASEAN
In South Korea and Taiwan, many companies pursue incessant research and development of new products by themselves. Hence, there is a huge demand for specialty and high- performance chemicals. On the other hand, in ASEAN countries, there are many manufacturing plants licensed and operated by multi-national enterprises. Their main products are paint, adhesives, personal care goods, foods, etc. In those applications, commodity chemicals are generally required. From commodity to high-performance, we are trying to expand our sales in these countries based upon win-win collaboration with our proficient local partners.
CHINA
China is achieving remarkable growth, and is now called the "Factory of the world", and we respectfully classify China as our reliable business partner in new Century, with whom we trust we can grow up together in the future supporting each other, not only in supplying raw materials from Japan to them for their productions but also in exporting Chinese competitive commodities to Japan and to other third countries as well.

It's worthy of special mention that since we are in close cooperation with many excellent business partners in both ways of export and import on manifold products, we are attempting to strengthen our of relationships with them, with a certain kind of future business partnership in sight.
INDIA
India is characterized by a population of more than 1.3 billion people and lower average age. Along with the increase in the working-age population, Indian economy is rapidly growing. In fact, infrastructure development is ongoing in urban areas such as New Delhi known for its one of the biggest metro systems in the world and Gurgaon where a lot of modern high-rise buildings are being constructed. Further growth in various industries is quite promising.

We have been doing business in India for more than 30 years and this is one of the most important markets for us. We have built a strong and amicable business relationship with our customers through our supportive local partners.

We mainly export pharmaceutical intermediates and raw materials for paint and coating applications. Also, we import various fine chemicals and intermediates for our customers in Japan as well as adjacent countries.
AUSTRALIA
Australia, while the world economy is changing significantly, is a stable market sustained by the primary industry. We focus on the sales of specialty and technically oriented chemicals especially for construction, plastic, paint, and adhesive markets. Also, as one of our business promotional strategies, we are trying to intensify our customer service to provide proper technical supports through well-trained local associates.
EUROPE
Europe is such a market where many huge chemical manufacturers are competing with each other. We have been, nevertheless, continuously supplying various ingredients for personal care and special chemicals for water treatment, food processing, etc. for decades.

In addition to the above industries, we are now energetically working with many potential customers to explore new business possibilities of various unique ingredients for functional foods and cosmetics applications.
AFRICA
Africa is regarded as one of the attractive markets and recently gains plenty of attention from all over the world. Also, the African market is called " The Last Frontier" and business has been increasing on a drastic and steady basis. In Egypt, we have been supplying various raw materials for adhesives and paints/coatings. In South Africa, catalysts and various functional chemicals have been distributed for these applications of adhesives and water treatment. In Nigeria, we market some chemical raw materials for the application of paint and even personal care. Especially, the business in Egypt has been growing rapidly owing to the reliable partnership with our local associates.
MIDDLE EAST
The Middle East region is rich in natural resources such as crude oil and natural gas from Turkey to the Arabian Peninsula and the opposite coast of the Persian Gulf. It is also a very important area for Japan in terms of the steady procurement of natural resources. We have been supplying versatile chemical raw materials and additives that are inevitable for production operation of local petrochemical complexes.

At the same time, with the background of abundant capital strength and policies for introducing foreign capital, domestic industries are being developed. We have been supplying a wide range of basic chemicals, additives, functional chemicals, etc. for the below fields.

・Constructions / Concrete buildings / Civil Engineering
・Resins for Paints and Coating applications
・Polymers for Adhesives / Glues
・Water Treatments for Pool/Spa and for waste waters
・Automotive-related-industry, Repairing and Equipment
・Personal and Health Cares

In recent years, the local medical system has been expanding. In accordance with the risen in health awareness, the demand for local developments of pharmaceutical, nutraceutical, and healthcare-related products has been increased recently. We are focusing on such realms, too.
RUSSIA
We have achieved remarkable business expansion in Russia during the last 10 years. Although the land is quite huge and spacious, we have been supplying various chemical raw materials not only to a coastal area from St. Petersburg but also to an inland area from Vladivostok.
Our current operating industries are construction, paints/coating, and plastic industries. But, we have started to supply unique ingredients for cosmeceutical application and focusing on the pharmaceutical field to deploy dynamic business in the near future.